1. West Paw Zogoflex Bumi Tug Of War Toy
About:
The West Paw Zogoflex Bumi is the perfect tug toy for your dog's teeth and gums while still holding up to endless tug-of-war games.
Features:
10 Best Tug Toys For Dogs: Toys manufactured by West Paw Designs are often made of Zogoflex, which is an exclusive and proprietary plastic. As a result, they are guaranteed to survive for as long as your dog owns them, despite the fact that they are both lightweight (Zogoflex toys literally float) and soft. A BPA-and phthalate-free, non-toxic, and FDA-approved product is Zogoflex. In addition, it is dishwasher safe and recyclable (check out West Paw Design's recycling program). As a result of the Bumi's distinctive shape, both you and your dog can easily grab the ball, and it may be stretched to twice its typical length during playtime. You can also use this toy to play retrieve, but do not let your dog chew on it, as it was not made to withstand this type of activity.
Sizes:
Small and large
Pros:
The Bumi soon became a favorite toy for a number of dog owners. If you're looking for a safe, robust, and American-made toy that can be used for games of fetch, this is the best option. The guarantee offered by Westpaw Design adds an extra layer of security.
Cons:
The Bumi was generally well-liked by reviewers. The majority of unhappy customers were misusing the product; this is not a chew toy! It's made to be used in tug-of-war and fetching contests. This tug toy is also a little more pricey than some of the others we've seen.
2. Goughnuts Maxx Black Tug Toy
About:
Durable rubber is used to create the GoughNuts Tug Toy, a figure-eight-shaped toy created in the United States. Even though the GoughNuts Tug Toy isn't meant to be chewed on, it's It is made of the same durable rubber as GoughNut's chew toys, making it one of the most durable options available on the market right now.
Features:
With the GoughNuts Tug Toy, you and your dog will have a safe spot to rest while playing tug of war. Although it's made of a sturdy and durable material, it nevertheless flexes and stretches a little so that it's both entertaining for your dog and relaxing for you (which is important for big-dog owners). In addition to their safety-indicator system, GoughNuts toys have been hailed as one of the top dog brands on the market because of their various layers, each with a different color. Toys made for pulling activities do not have a safety-indicator mechanism.
Sizes:
This is a fairly large tug toy, with a length of 11 inches and a diameter of 6 inches. Because of its size and weight (1.6 pounds), this toy should not be dropped on one's feet. In addition, there is a tiny version of both the toys that measures only 5 inches wide and is 2 inches shorter.
Pros:
It appears that most dogs find the GoughNuts MAXX Black TuG Toy to be a great fit for their mouths, and most owners who tested it gave it excellent scores. When it comes to a tug toy, the figure-eight design works well because of its durability and the rubber utilized in its creation.
Cons:
For larger dogs, the MAXX Black TuG Toy may be too much for them to handle. Due to its size, it's not the best choice for retrieve games either (you don't want to accidently prick your dog in the face with this heavy hunk of rubber).
3. Charming Pet Cuddle Tug 
About:
Despite its beautiful appearance, the Charming Pet Cuddle Tug is a tough plush tug toy that can stand up to the teeth of your dog when playing. It's possible to use these toys in a folded or unfolded orientation, depending on what works best for you and your dog.
Features:
10 Best Tug Toys For Dogs: In spite of its cute appearance, the Charming Pet Cuddle Tug is built of durable materials including non-rip canvas. It has embedded nylon in the areas most likely to tear, and the seams are double-stitched. Corduroy pieces and an interior squeaker are also included in these toys, which are built to accommodate your dog's attention and excite its predatory instincts. Even though they're designed for tugging, these toys can also be used for fetch. They aren't meant to really be chew toys, but some dogs may like playing with them and snuggling up to them as well.
Sizes:
Only one size is available for the Charming Pet Cuddle Tug. A folded version is 16 inches long, and an unfolded version is 26 inches long.
Pros:
The Charming Pet Cuddle Tug proved to be more durable and comfy than most owners had imagined. It's great for dogs who like to chew on squishy things. In addition, the toys are adorable, which is always a plus.
Cons:
The Cuddle Tug received very few complaints. 

Charming Pet Tugs Cow Plush Squeaky Dog Toy
4. Lechong Dog Rope Toy
About:
10 Best Tug Toys For Dogs: The Lechong Rope Toy is a greater version of the classic rope toy. This is basically a long piece of rope with a few knots to make it much easier to hold. It's soft, safe, and durable, making it a great tug-of-war toy for your dog.
Features:
The LECHONG Rope Toy isn't very innovative, but that's because it's based on a design that's been around for a long time. It is made of 100% instinctual cotton and has five knots all the way down its length. The edges of each edge are left loose and untied, which is very appealing to many dogs.
The LECHONG Tug Toy comes with a 100% satisfaction guarantee from the company that made it. If your dog manages to break it, just contact the company to get a refund or a new one. The manufacturer doesn't say that this toy can be washed and dried in a machine, but I think it would be fine if it was washed and dried on gentle cycles.
Sizes:
Because it is made for big dogs, this rope toy only comes in one size, which is extra-large. It's about 3 feet long and weighs about 1.5 pounds.
Pros:
Most people who bought the LECHONG Tug Toy were happy with it. It looked like it could hold  up to most dogs' teeth, and most dogs love tug toys with ropes. The guarantee from the manufacturer is also a nice bonus that will give you peace of mind when you buy.
Cons:
The only real problems owners had with the LECHONG Tug Toy were that it didn't last long when used as a chew toy, which is not what tug toys are made for, and that it had an odd smell when it arrived.
5. "11-Piece Toy Set" By Pacific Pups Products
About:
The above Pacific Pups Products Toy Set is just an 11-piece set with nine different toys that are great for tug-of-war games. This is indeed a good choice for stockholders who are not yet sure what category of tug toy might very well best suit their own pooch.
Features:
This set has a lot of different dog toys, like rope tug toys, a ring-style tug toy, a ball-and-loop tug, and a giraffe-shaped tug-and-floss toy that is especially cute. All of them are made to meet ASTM F-963 Child Toy Safety Requirements, don't have any plastic in them, and come with a lifetime guarantee. It is also significant to mention that profits earned from the revenues of Pacific Pups Products Dog Toys help to support the Pacific Pups Rescue, which would be a California-based non-profit that works to help save dogs from high-kill shelters.
Sizes:
This toy set features tugs of a variety of different sizes. The largest measure is about 2 feet long, making them suitable for pretty big dogs.
Pros:
Overall, most people who bought the Pacific Pups 11-piece toy set were happy with it. Several people said that their dogs liked playing with the toys and that they seemed to be strong enough to withstand their dogs' teeth. As you might expect, many owners were happy to help a good cause and give their dogs fun toys at the same time.
Cons:
Some owners have always been disappointed that their dog couldn't chew on these toys, but that's a common problem with tug toys, which aren't made to be chewed on.

Pacific Pups Products - Set of 11 Nearly Indestructible Dog Toys
6. Sodapup Pull Tab Tug Toy: 10 Best Tug Toys For Dogs
About:
10 Best Tug Toys For Dogs: As the name of the company suggests, this is basically a big soda tab, but instead of using it to open a can of pop, it's used to break up your favorite pup! This has a thicker end and a thinner end. Small dogs should use the thinner end, while bigger dogs should use the thicker end. This is like the thing we got from Goughnuts, but it's not nearly as durable.
This toy has been made with safety in mind. It is made of rubber. This toy is safe and meets all FDA standards. If your dog doesn't eat this, it will break down naturally. SodaPup knows how no dog toy will last that long, so they tell their customers to check the condition of the toy often and get a new one if it starts to crack.
 If this doll lasts much longer enough to get dirty, you can just throw it in the dishwasher. It is made in the United States from a substance called "puppetprene rubber." This is probably the least durable toy on with us list so far, and there's another problem: it's very stretchy, but it's also easy to lose hold of. People have told us that when they lost their grip on this toy sling, it shot back and hit their dog on the nose.
Sizes:
Since it's all one piece, you might think it's very durable, especially since it's made for medium-sized to large-sized dogs.
Pros:
Soda tab shape

There are small and big sides.

Machine washable
Cons:
Not durable

Can thwack your dog!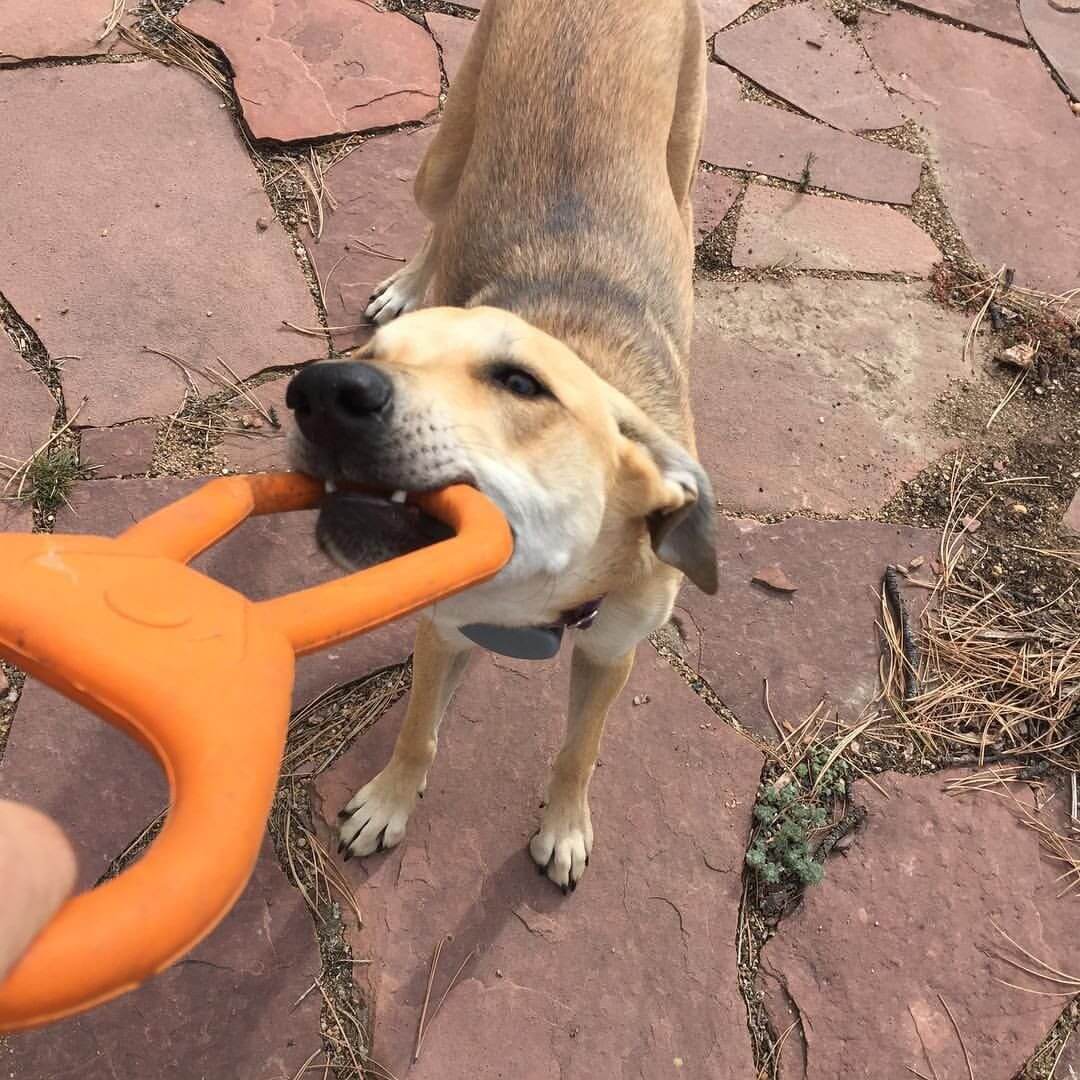 7. Redline K9 Dog Bite Tug Toy
About:
10 Best Tug Toys For Dogs: This design is the rarest of the ones we've looked at so far. People don't have this kind of toy very often. This is a two-handed tug toy, which is why. The part that your dog bites down on is in the middle, and you hold it with two handles. This means that you have to play with your dog more. This looks like a good toy for small dogs, but more of a comfort item for big dogs. But this toy doesn't look like it will last very long, so it might be best for your dog to just parade around with it to show off.
Sizes:
This appears to be a fun toy for small dogs, but it's really meant to be a relaxing item for large dogs.
Pros:
Used by the police to train

Good for small dogs.
Cons:
It takes away laziness.

Worries about durability
8. Playfulspirit Durable Rubber Ring Made Of Natural Rubber
About:
10 Best Tug Toys For Dogs: The playful spirit Durable Natural Rubber Ring is a circular tug toy that can also be used for fun games of fetch. This toy is made of natural rubber that is safe for pets and is semi-hard. It is strong, but it can still bend a little bit to keep your pet's mouth safe and comfortable. This ring-shaped toy is made to be fun for dogs who don't like tugs made of a rope or fabric. It is easy for dogs to hold on to, and you can easily hold on to the other side while fighting your dog. When you buy a PlayfulSpirit Rubber Ring, you'll also get a free eBook that tells you how to play some games with it.
Sizes:
There is only one size of the PlayfulSpirit Rubber Ring, which is perfect for medium to large dogs. It has a diameter of 6 inches and a thickness of about 1 inch. About 10 ounces of it.
Pros:
The mischievous spirit ring seems to last well if it's used correctly (for tug-of-war or fetch games, not for chewing), but most dogs seem to like the way it looks and feels. The orange color is also nice because it will help people find the circle at a glance.
Cons:
As with most other tug toys, some owners let their dogs chew on them instead of using them the way they were meant to be used. This usually results in a toy that has been shredded and is no longer secure for your dog to play with. Aside from it, the only complaint humans found was that the ring might be too heavy for smaller dogs.

PlayfulSpirit Durable Natural Rubber Ring
9. Nerf Dog Tug Durable Dog Toy
About:
If you thought that Nerf only made balls that fly far and toy guns, you were wrong. Your dog can now play with toys made by your favorite toy company from your childhood, which is a cool way to discuss. This one-piece toy looks like a black tire from the outside. This is good for both you and your dog because it gives you both better grip. 
Since it's made of one piece, you might think it's very durable, especially since it's made for medium-sized to large-sized dogs. Well, this toy is going to end up like most other dog toys. It can't compete with the cute but strong jaws of bigger dogs. Even though a Nerf dog toy might seem cool at first, it's not so cool in real life.
Sizes:
Larger dogs have jaws that are both adorable and powerful.
Pros:
Cons:
10. The West Paw Interactive Tug Of War Toy
About:
10 Best Tug Toys For Dogs: This is a classic style that you probably know right away. This is another rubber toy, but instead of two solid pieces joined in the middle, it is just one piece with two handles. The good thing about this is that you can play with your dog up close. The bad thing is that it makes hand slips and tooth nips more likely.
This toy is made without any BPA and with your pet's safety in mind. Since it can stretch to twice its length, you can play tug-of-war or watch two dogs fight over the same toy. This isn't the best thing to throw away, but it's still good. All sizes of dogs can play with this toy, but bigger and stronger dogs can quickly make it useless. Even though every dog toy has problems, it's the first one on that list that has major problems. We'd suggest this product for small or medium-sized dogs.
Sizes:
We'd recommend this product for dogs that are small or medium in size.
Pros:
Classic design

Becomes twice as big as the original size

Good for small dogs
Cons:

Zogoflex Bouncy Dog Fetching Stick