Winter can be a difficult time for both humans and our furry friends. While you're curled up with a warm cup of hot cocoa, your pup is left wondering what fun activities they can do to pass the winter days. But fear not! We have compiled 10 amazing activities that are sure to bring smiles and excitement even in the coldest of months. Whether it's a game of hide-and-seek, or just taking an excursion down snow-covered trails – your pup won't be disappointed with these choices! So don't let the chill keep you inside; let's explore some creative ideas for keeping Fido entertained when temperatures drop below zero!
Indoor agility course
If you don't want to brave the cold weather outside, why not set up an indoor agility course in your living room? Needing to brush up on some obedience skills? Build yourself an obstacle course using furniture, toys, blankets—whatever items you have lying around—to test out how well-trained your pup really is!
Social media takeover
With social media being so popular these days, why not give your pup their own account? Let them take over one day with pictures of their adventures around town or funny videos from inside the house — it's sure to get some serious likes from all their followers!
Play Dress Up
Everybody loves dress up right? Well maybe not everyone likes dressing up themselves…but what about dressing up their pet instead? Pick out some silly outfits from your local pet store or even make some DIY costumes out of fabric scraps–your pup will look adorable either way!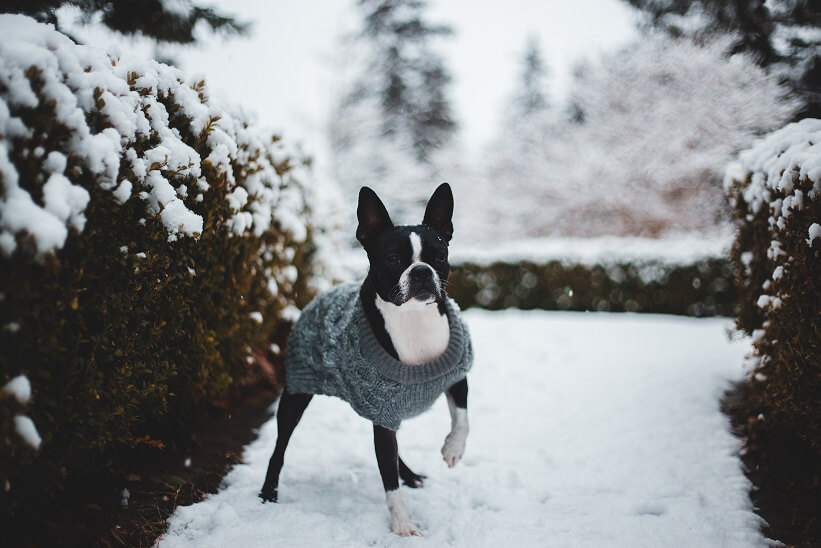 Snowball Toss
This game is simple but will get your pup running around trying to catch all the snowballs you throw their way. Just make sure you pick somewhere with fresh snow and no salt on the ground (which can be harmful to their paws).
Build an Outdoor Doggy Fort
Get creative by constructing an outdoor doggy fort in the backyard using items from around the house (like large cardboard boxes). It doesn't have to be grandiose; just enough for your furry friend to stay warm and cozy when enjoying some outdoor playtime without getting too chilly!
Visit Pet Stores/Doggy Daycare Centers
Many pet stores now offer dog-friendly shopping experiences where owners can bring their pups along for the ride! Or look into dog-friendly daycare centers where pups can socialize and play all day long without getting too cold outside.
Bake Some Dog Treats
Finally, baking dog treats together is a fun way for you both to bond over some delicious creations (you may even learn a few new recipes!). Not only that but when it comes time for handing out presents this holiday season, store-bought treats will seem like child's play compared to these homemade delights made especially by the two of you together!
Go Sledding
If there's enough snow, why not go sledding? Most dogs love running after a sled and being able to feel like they are part of the activity, too! Make sure they stay off any icy patches and are wearing protective gear if needed.
Winter movie night
What better way to end an evening filled with outdoor activities than cozying up indoors with some hot chocolate (or milk bones!)? Choose from one of many classic holiday movies featuring furry friends like "Santa Paws" or "Antarctica: A Year On Ice." Snuggle up on the couch next to Fido as you both enjoy this special bonding time together this winter season!
Indoor Winter Activities
For those days where going outside isn't an option due to bad weather or icy conditions, there are plenty of indoor activities that you can do together. Games such as hide-and-seek or tag will give him lots of mental stimulation while keeping him active indoors. Or if he has a favorite toy that he loves to play with, bring it out and give him some extra indoor playtime
Winter doesn't have to be boring when it comes to keeping our pups entertained. There are plenty of ways we can keep our furry friends healthy and happy even during those colder months! From snowball fetching sessions outdoors, ice skating trips at local rinks, visiting pet stores and doggy daycare centers – the possibilities are endless when it comes to finding fun winter activities for our four-legged friends this season! So bundle up yourself and maybe grab an extra scarf or two, because there's no telling what kind of adventures await you both once these chilly days set in…happy exploring everyone!